When wearing jewelry, the rule says that one should not mix different metal colors: "you should only wear silver, or only gold". But then what about rose gold? And what if your undertone is cool but you still like gold?
You CAN mix metals. Here are 4 ways of styling jewelry of different colors together.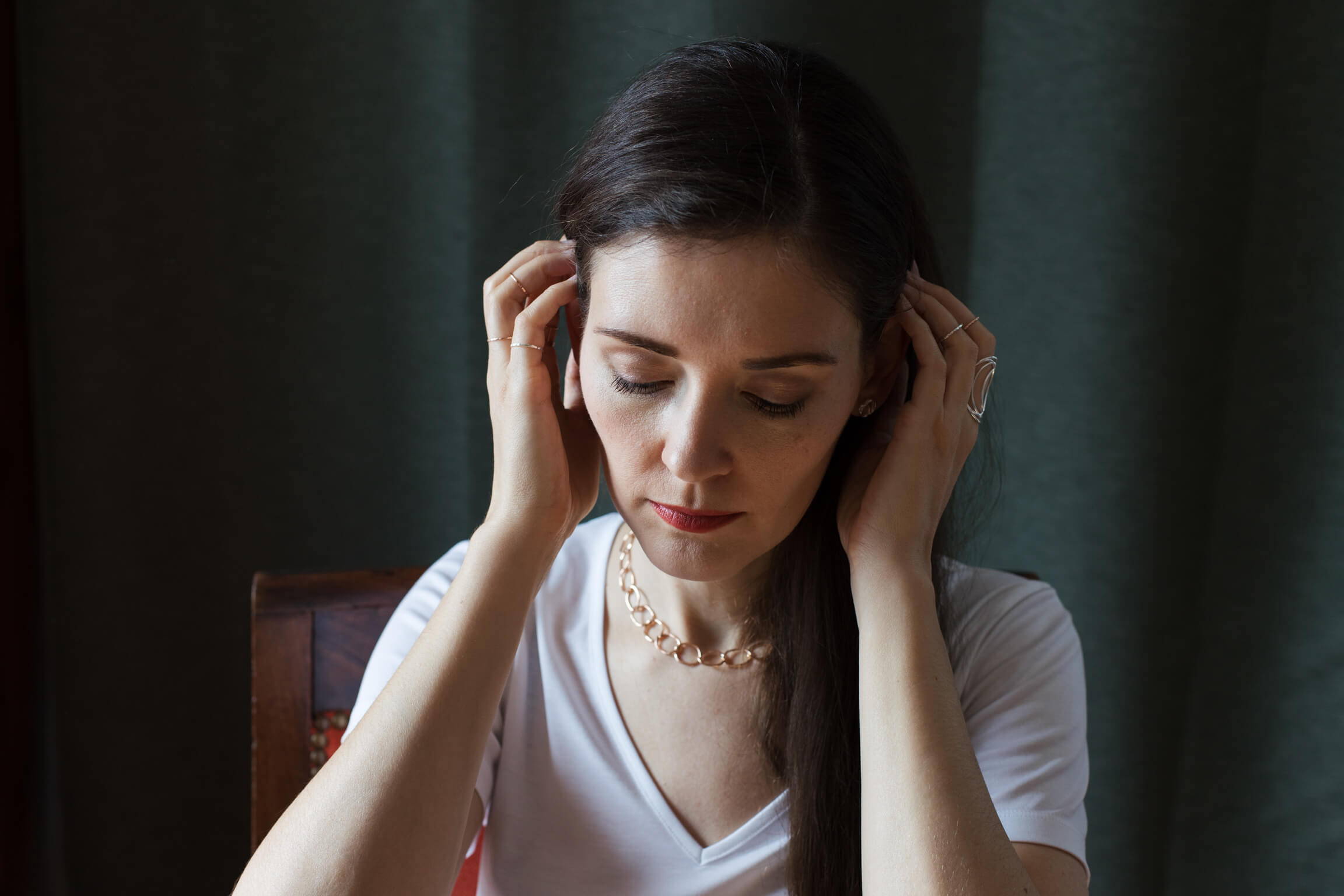 The easiest way, if you tend to wear only silver, is to try adding some rose gold. While silver fits people with a cool undertone, rose gold is flattering for neutral undertones, so it adds a touch of color without clashing with your silver or with your skin.
The same things goes for people wearing mostly gold: adding some rose gold will bring in color and it makes the gold shine, especially if the gold is a 24K quality (the purest and the most "yellow" gold color there is).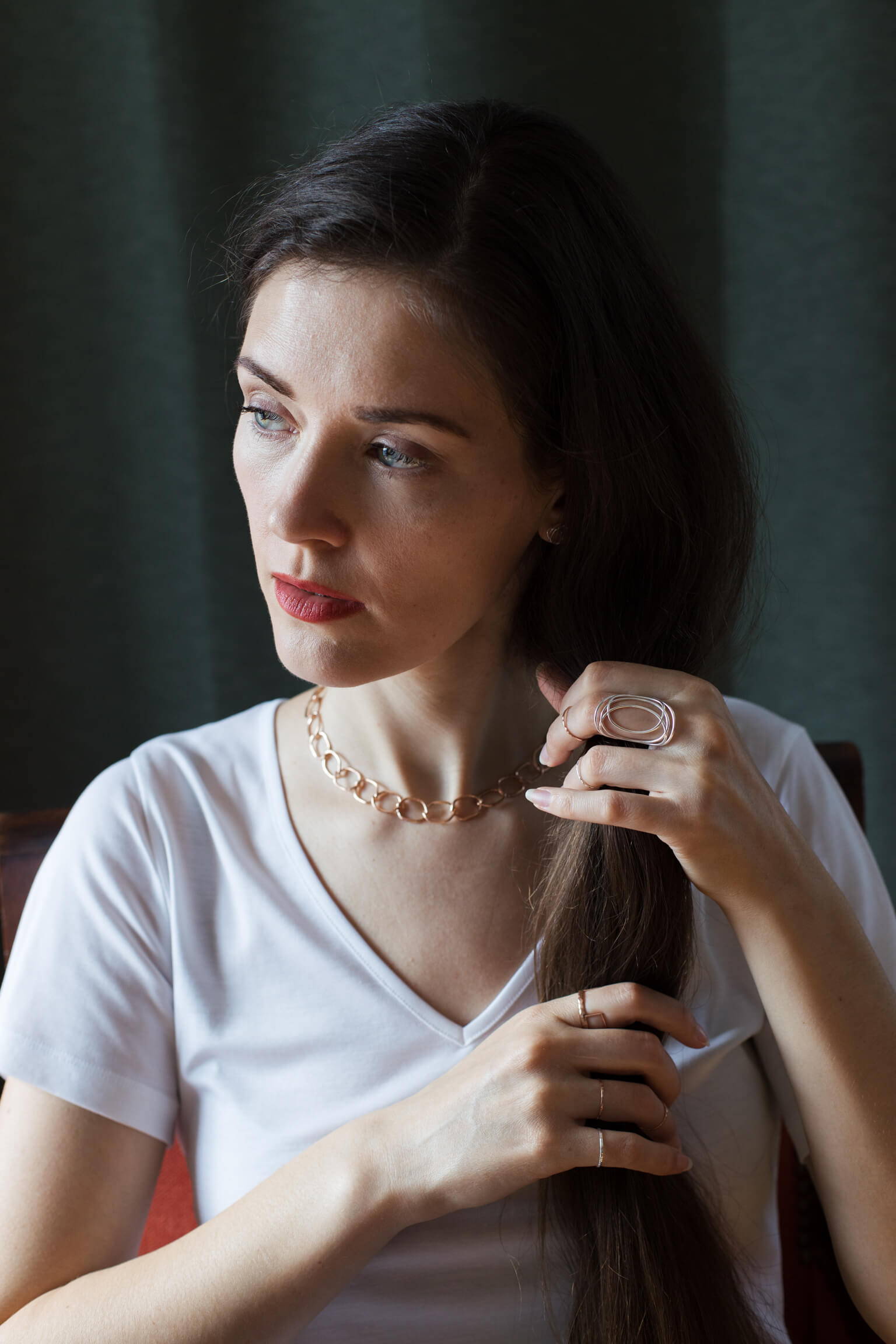 When mixing metals, wear them close to each other: different ring colors on the same hand, different necklaces around your neck, etc. This way the contrasting colors will emphasize each other. If you wear a ring of one color and earrings of another color, they won't be close enough to each other and you won't get the same effect.
Do you want to set a color accent in your jewelry look, or do you want it to be more of a statement? Here the size of your pieces matters. Adding a rose gold knuckle ring to a silver statement ring is an accent. Choosing to wear a rose gold statement ring + a gold statement ring is a statement.
This depends on your personal style and taste, but also on how much attention you want your jewelry to attract: are your pieces discretely supporting your outfit or are they its centerpiece? In my case, I think that there is no statement ring big enough and I like massive arm cuffs rather than dainty bracelets, so if the jewelry I'm wearing is stealing the show, I'm happy!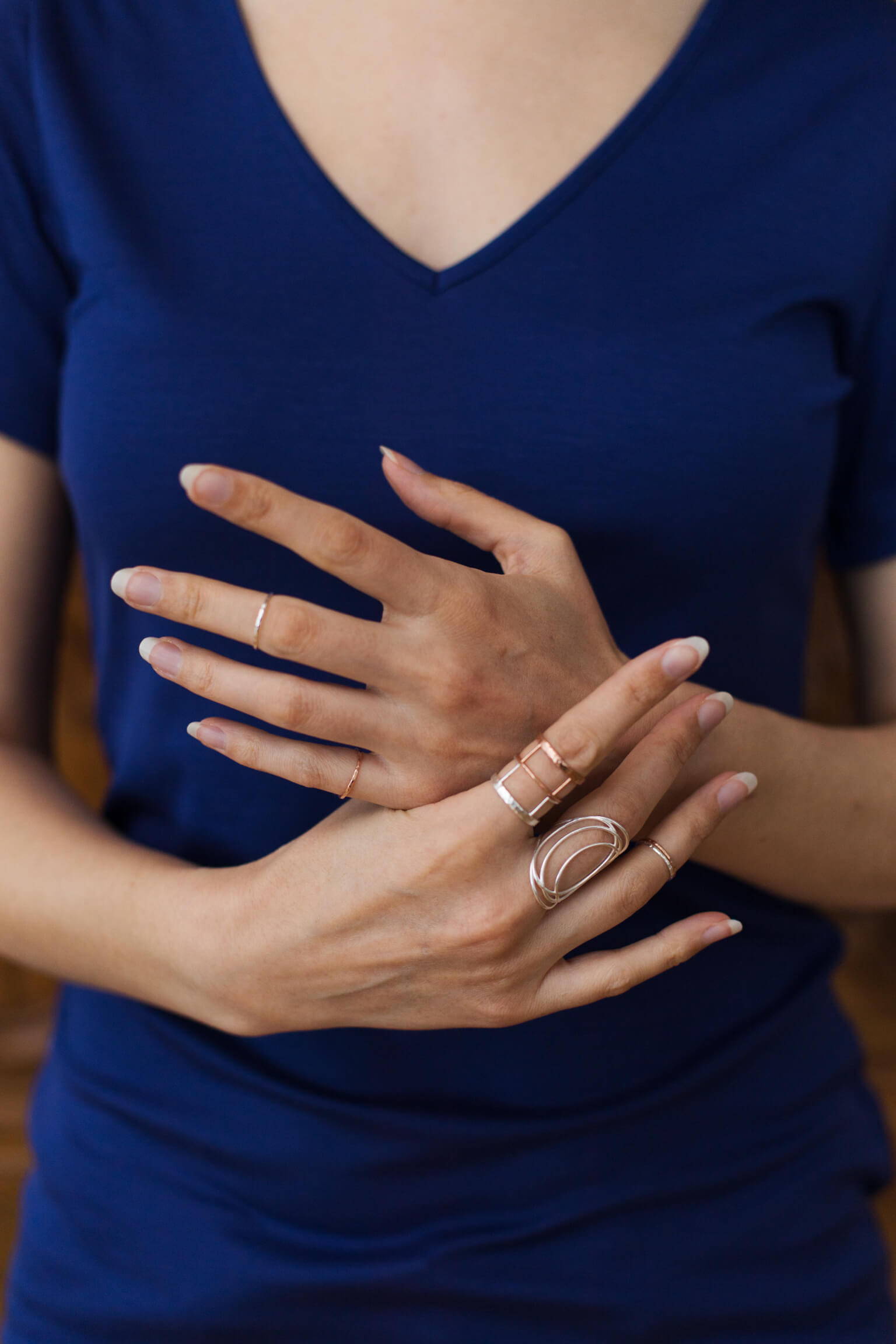 Matching your clothes or contrasting with them?

At this point, the colors you are wearing come into play: if your undertone is cool, and you are wearing a cool color like the blue V-neck top shown above, matching your clothes means wearing silver jewelry. If you are warm-toned and wear a warm color, like the loden green top shown below, gold jewelry is a match.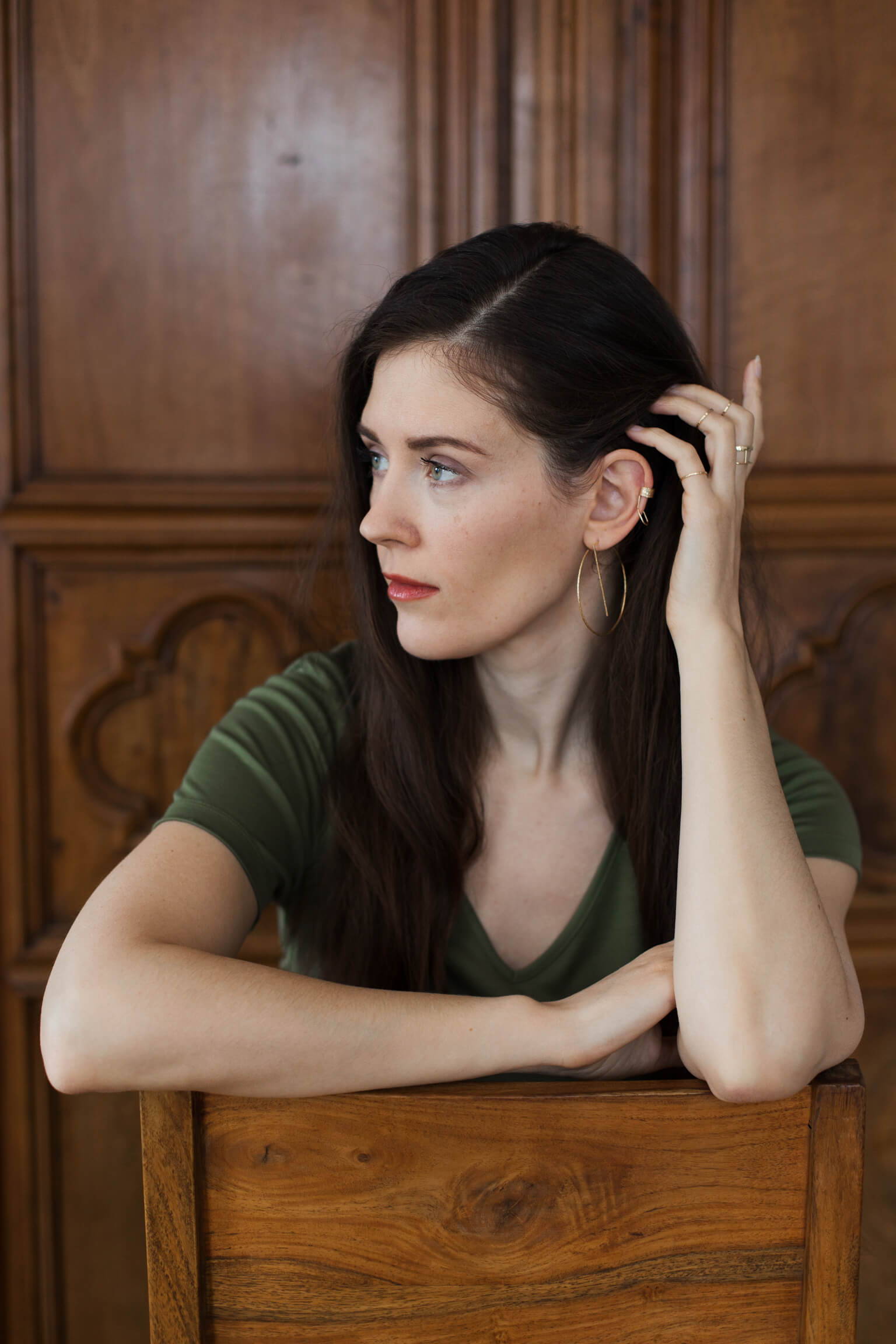 Keeping the same clothes' colors, you can create contrast by using rose gold or silver jewelry with the green top. Or you wear the blue top but pair rose gold or gold jewelry with it. That works very nicely if your undertone is neutral (as you can wear any metal color, lucky!) and/or if the color palette of your outfit is of the color-blocking type. In general, color-blocking achieves a modern/contemporary look whereas more harmonious color palettes are sartorially perceived as being more classic.
Matching the jewelry with your accessories

This is another way of proceeding: let's say you have a statement handbag which you want to be the centerpiece of your look. On this photo, it's a red handbag with a (silver-looking) metallic chain. I will pair silver jewelry with it.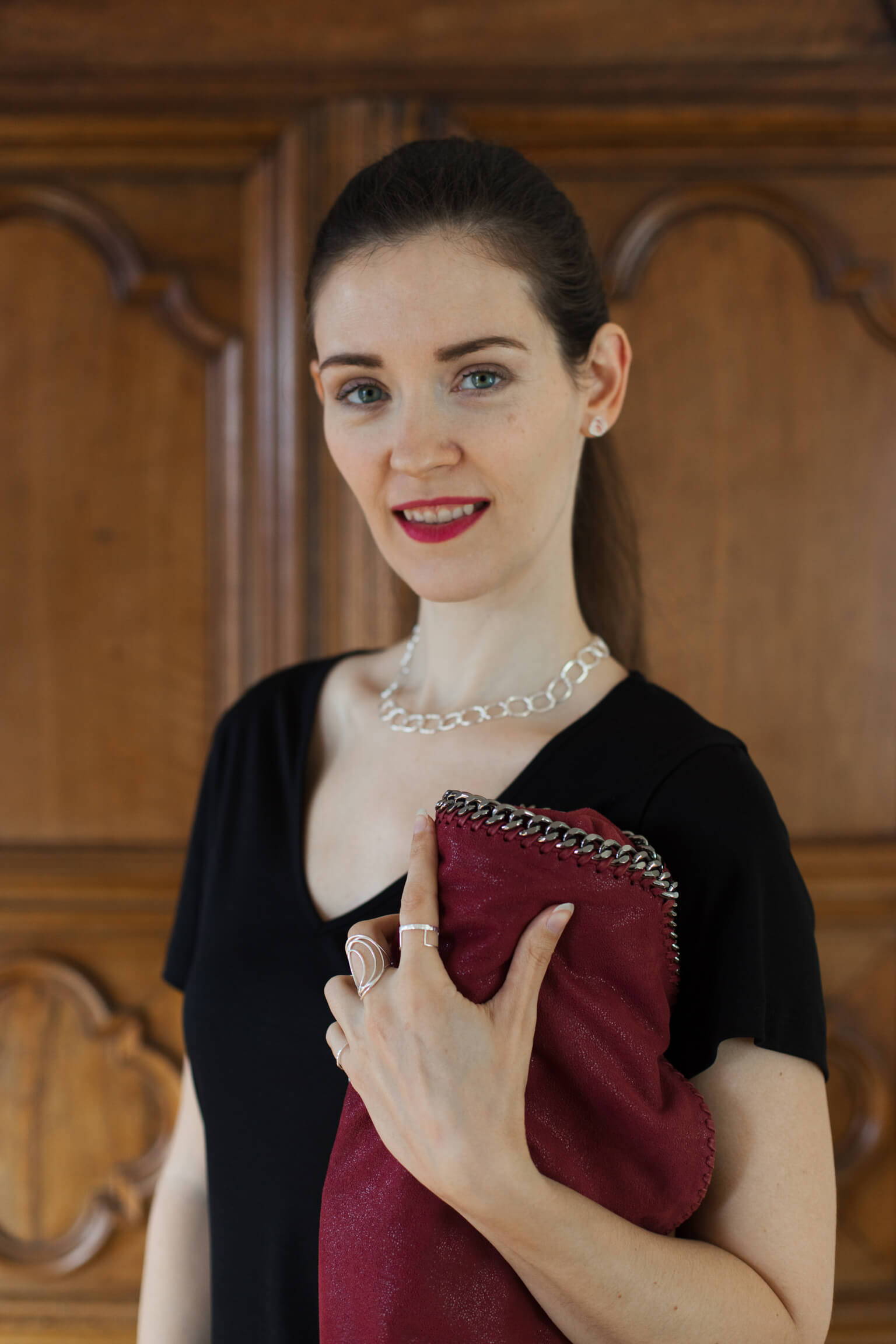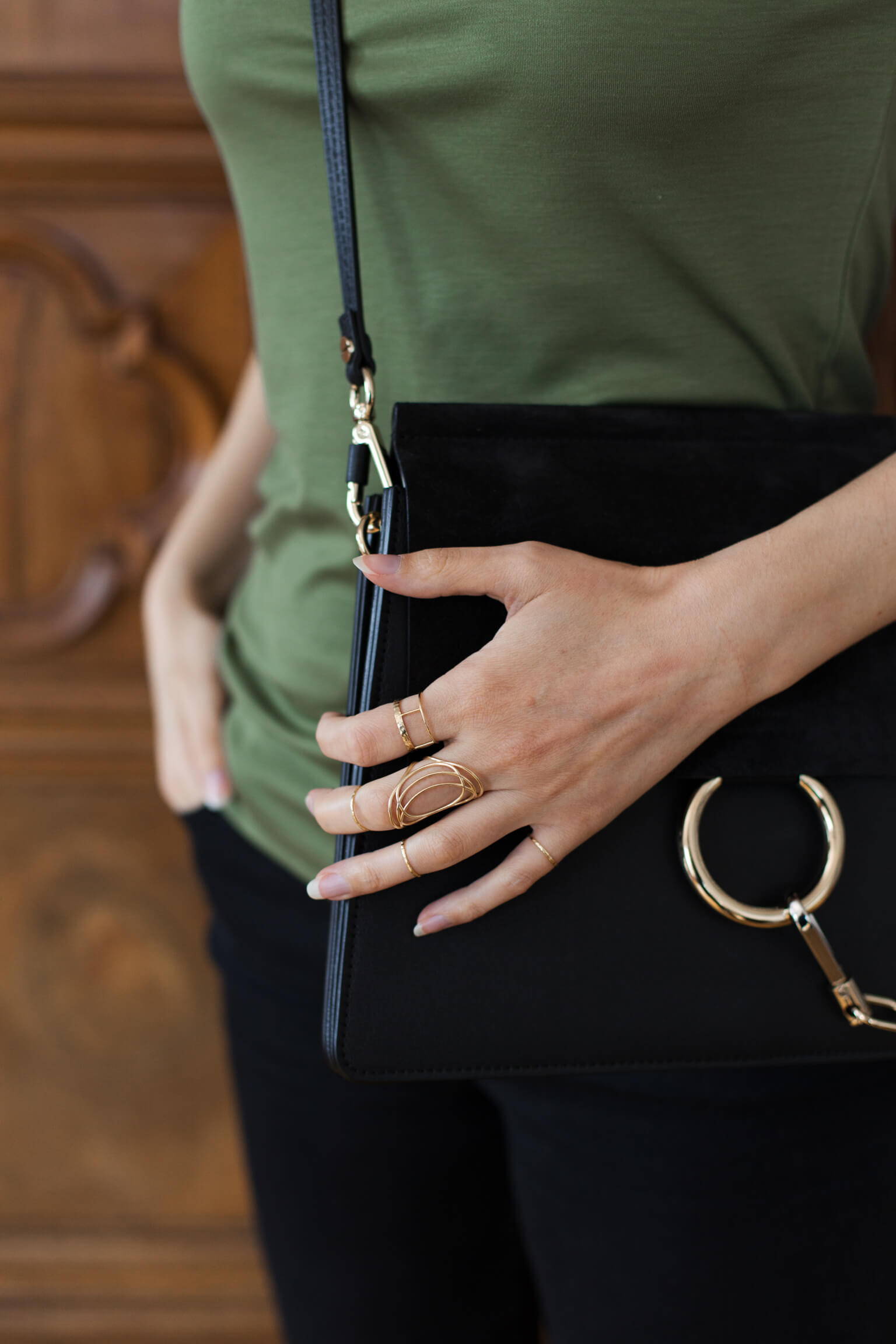 If the hardware on your handbag (or any other accessory) is golden, matching means wearing gold jewelry with that handbag.
Many brands offer handbags and accessories with golden chains – that always has me wonder: what about people who are not warm-toned and who don't find gold to be flattering on them?
If your undertone is warm, you will have an even larger range of options on the market. I don't think it's "fair" for cool-toned people, but it is clearly a trend I see in recent years, in fashion as well as in the beauty industry: it is trendy to be warm-toned.
I hope these tips will help you have fun while styling your jewelry to achieve different looks. Remember: rules are meant to be broken. This is what my draping teacher at fashion school once said, and I couldn't agree more. But in order to break the rules, we must first understand how they work and where they come from!
If you want this kind of content sent straight to you inbox, you can subscribe to my newsletter:
Throughout this article, the V-neck tops shown, as well as the jewelry, are my own designs:
V-necks in 4 colors and 6 sizes
Jewelry in silver, gold and rose gold